Ryan Public Schools will start at 9:00am tomorrow morning. Busses will run 1 hour later than normal. We will be out checking the roads in the morning to adjust if needed.

No school at Ryan Public School tomorrow, Wednesday February 1, 2023.

Ryan Public Schools will be closed and all activities canceled tomorrow (Tuesday January 31, 2023).

Ryan Public Schools will dismiss and run busses at 1:30 today.
Tonight's bb games with Bray-Doyle have been cancelled. We will make them up Saturday, February 4th at 6:30. We will recognize our seniors at 6:00. There will not be a Jh game.

Bingo tomorrow night!!! Come to the school cafeteria from 4:30 to 6:30. All funds raised will go toward new playground equipment. Cards will be 1$ at the door.
The bus for the Chad cargill ACT prep class will leave at 7:45 am on Thursday, January 26th. We will stop and eat in Duncan after the class. Students will be responsible for their own meal.

Ryan Public schools will start at 9:00AM tomorrow morning (Wednesday January 25)Busses will run 1 hour later than normal. Sorry for any inconvenience this causes but we appreciate your understanding.

The basketball game against OSD scheduled for Tuesday night has been cancelled.

Ryan Public Schools will be in session tomorrow (Tuesday). We will monitor the weather throughout the day with the safety of our staff and students in mind.
If you see Julian around town tell him Congratulations! Julian received the Stephens County Athletic Association Scholar Athlete Scholarship !!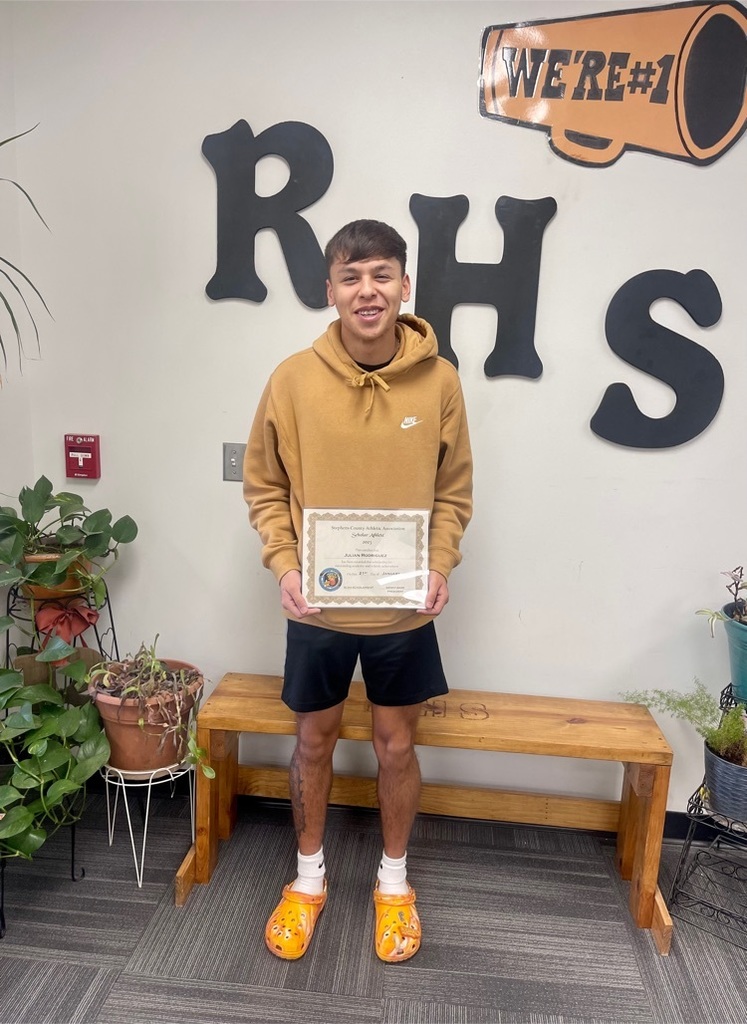 Our BETA Club received the National BETA Club School of Merit Award! This award is given to honor a club's dedication and commitment to academic excellence. To achieve this prestigious honor, a school must include members from all eligible grade levels in their Beta club. Congratulations Ryan High School BETA Club and sponsors Mrs. Miranda and Mrs. Giffin!!!!
Students will have tickets Monday!
We had a mix up on one of our schedules, so we have a couple of basketball dates that have changed. January 26th is @ Grandfield Hs only starting at 6:30 January 31st is @ Ryan Jh/Hs starting at 4:30 Sorry for the confusion. GO COWBOYS!!
The 5/6-Jh basketball games scheduled for January 26th at Turner have been cancelled. GO COWBOYS!!
The bus to Frederick on Friday, January 13th will leave at 2:15 for Jh and Hs will leave at 4:00. GO COWBOYS!!
The OSD Hs basketball game scheduled for January 24th at Sulphur has been moved to Ryan. Game will still start at 6:30. GO COWBOYS!!
Unfortunately there will not be a girls basketball game tonight. Maysville does not have enough girls to play. We will still have homecoming at 6:00 and the boys game at 6:30.
Basketball Homecoming is tonight! Come celebrate the last few hours of the school year with us as the RHS Cowgirls & Cowboys face off against the Maysville Lady-Warriors and Warriors tonight! Ceremony starts at 6 p.m.

See you tonight!