Ryan Public School has 2 positions open. An Elementary Counselor position and an Upper Elementary teaching position ! Send resume, teaching certificate, and cover letter to Cheryl Carter
ccarter@ryan.k12.ok.us
and Jodie Roberts
jroberts@ryan.k12.ok.us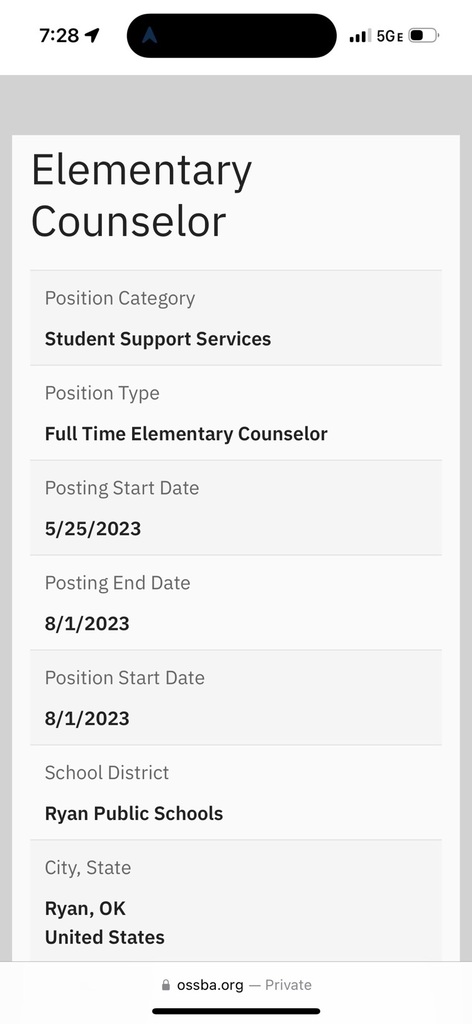 There will be a football meeting for all 7th-12th grade players this Thursday, June 1st 7:00pm at the field house. GO COWBOYS!!

The Ryan Board of Education is excited to welcome Mrs. Jodie Roberts as the new Superintendent of Ryan Public Schools. Jodie is a Jefferson County Native, who graduated from Waurika in 1988. She received a bachelor's degree in Speech Pathology from Oklahoma State University in 1992. In 2003 Mrs. Roberts received a Master's Degree in Education Administration from Southern Nazarene University. She has 29 years of experience in Education with 20 of those years in administration. Mrs. Roberts most recent experience has been as the High School Principal at Empire Public Schools. "I want to thank the Ryan Board of Education for the opportunity and look forward to working with the staff and students at Ryan," Mrs. Roberts said. "I am excited to be a Cowboy!"
Thanks Coach Mugg and helpers for painting and installing new signs on our buildings!!!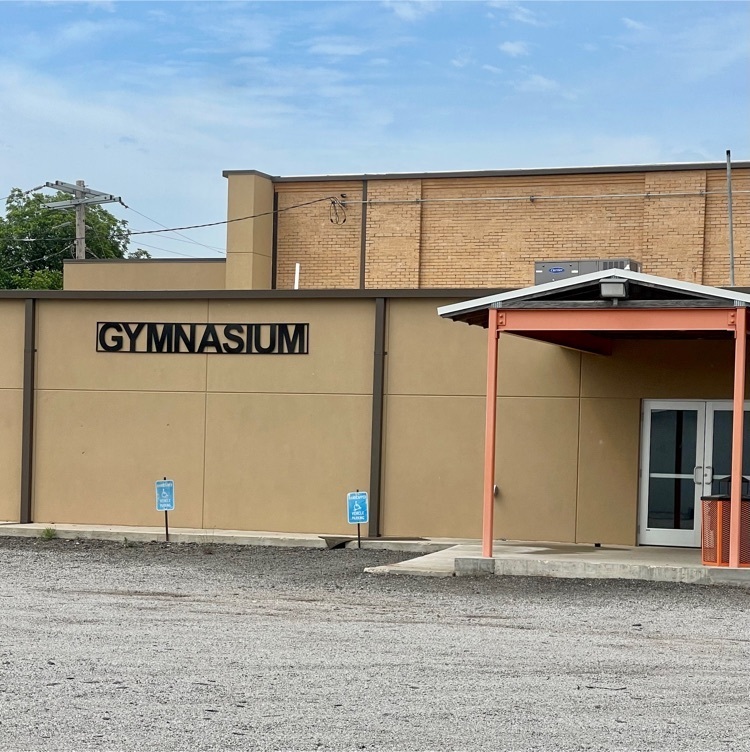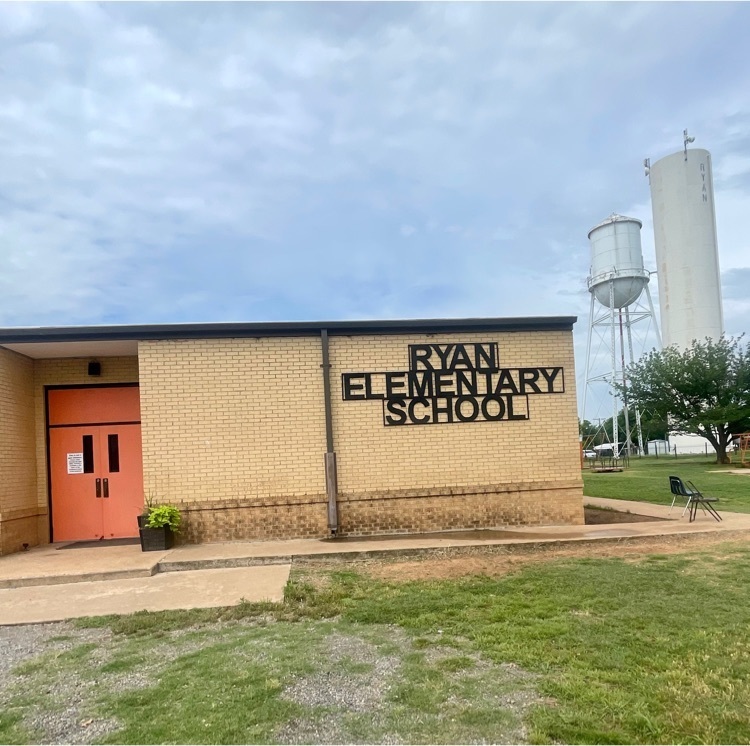 RYAN COMMUNITY!! Please be proud of our students! Today eight students showed up on their summer break to participate in their very first college class! Please give these kids a high five, a hug, and/or a fist bump when you see them around town. I am so proud, impressed, and humbled seeing these students show up, participate, and even smile after class today! -Mrs. Chapman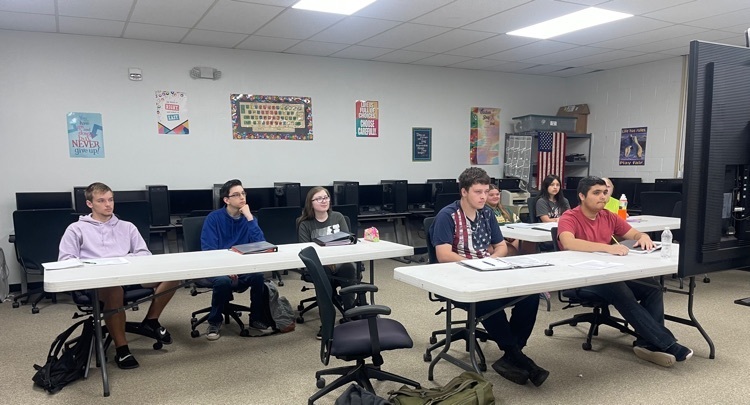 Reminding all 11th grade Career Tech students that you need to be her by 9:15 am on Wednesday, 5/16 for student checkout. Also, all lunch bills need to be taken care of before students are able to checkout.

This group of students led the way in their respective classes with AR points! We congratulate them for their hard work with a trip to Samuri for lunch today. Good work!!!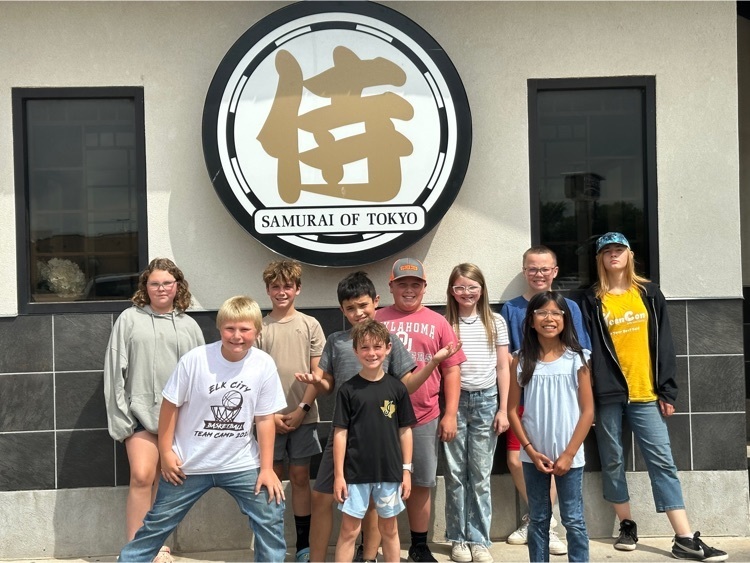 Thank you Ryan Board of Education for the "Eileen's Cookies" !!
Ryan Seniors PLEASE get your received scholarship list to Mr. Tomberlin or Mrs. Chapman by 2:00 p.m. Thursday, May 11, 2023. If you are still on the hunt for scholarships the "UCanGo2.org" site has a list of scholarships organized by deadline.
https://www.ucango2.org/scholarships/deadline.html#06

Ryan Elementary School is accepting applications for paraprofessionals for the 2023-2024 school year. To apply, please come pick up an application in the superintendent's office.
Little Olympics is Thursday! Be prepared to get wet. Snacks from 50 cents to $1.50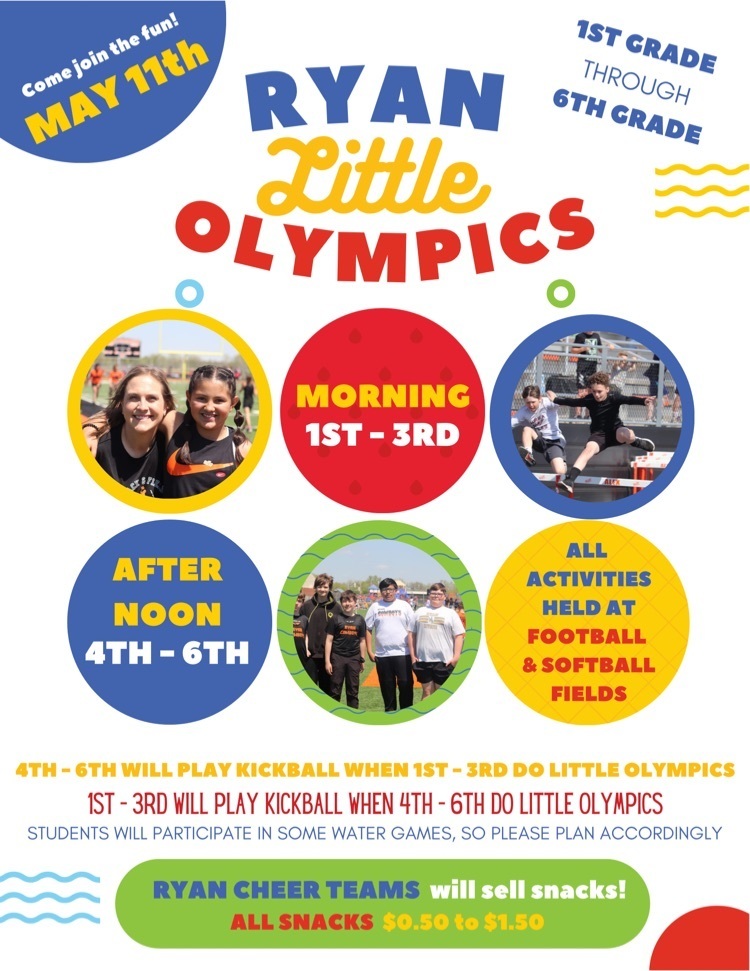 Reminder that tomorrow, May 8th is our sports banquet at 6:30. Here is a list of food for each grade to bring. GO COWBOYS!!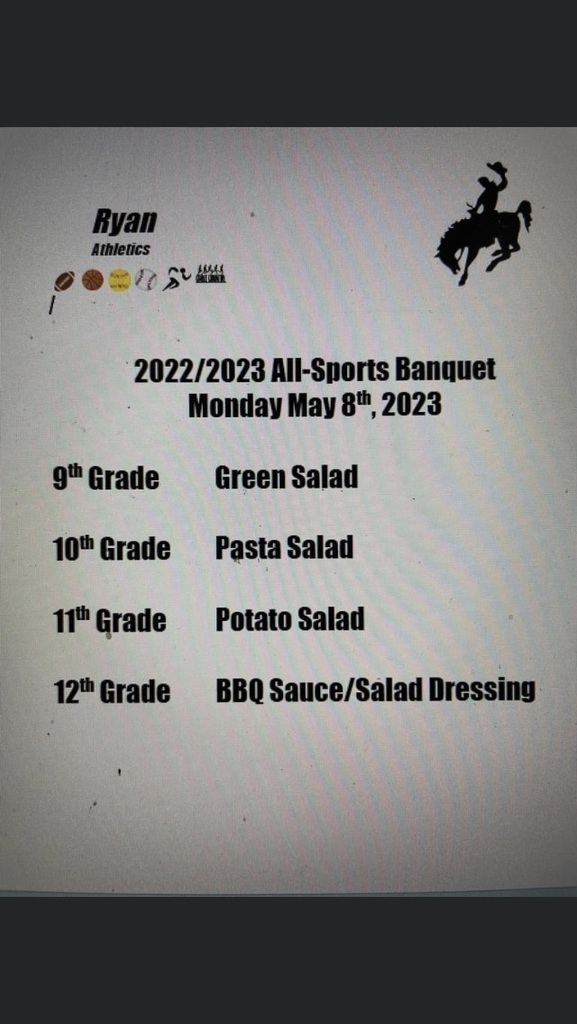 Good Mornin' Ryan! We're getting down to the final days of the year! That being said...it's Athletic Banquet time! Attached is a list of what each high school class needs to contribute to this years' banquet. If you have any questions, or need any help with providing what is needed please let one of the coaches know and we will do what we can to assist you. We look forward to celebrating all of our athletes and their accomplishments this year, we hope to see you all there!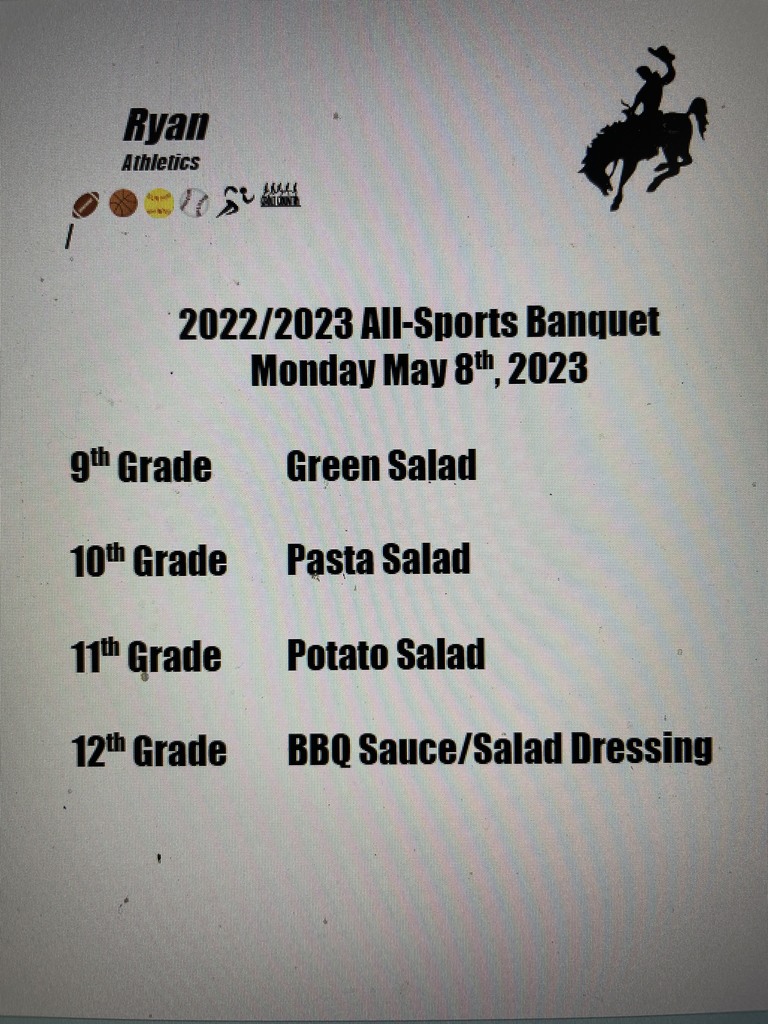 Attention HS / JH Track please make sure to bring your uniforms back with you today to school so that we may take a Group Photo. Also, Seniors please wear something you'd like to be photographed in for your "Who's Who" photo on Tuesday, May 2nd. Thank you all!
Good afternoon Cowboy fans! Here's a sneak peek at your fall entertainment schedule! We hope that the success our boys found this year carries into everything we have to show you when those Friday Night Lights shine on! Go Cowboys!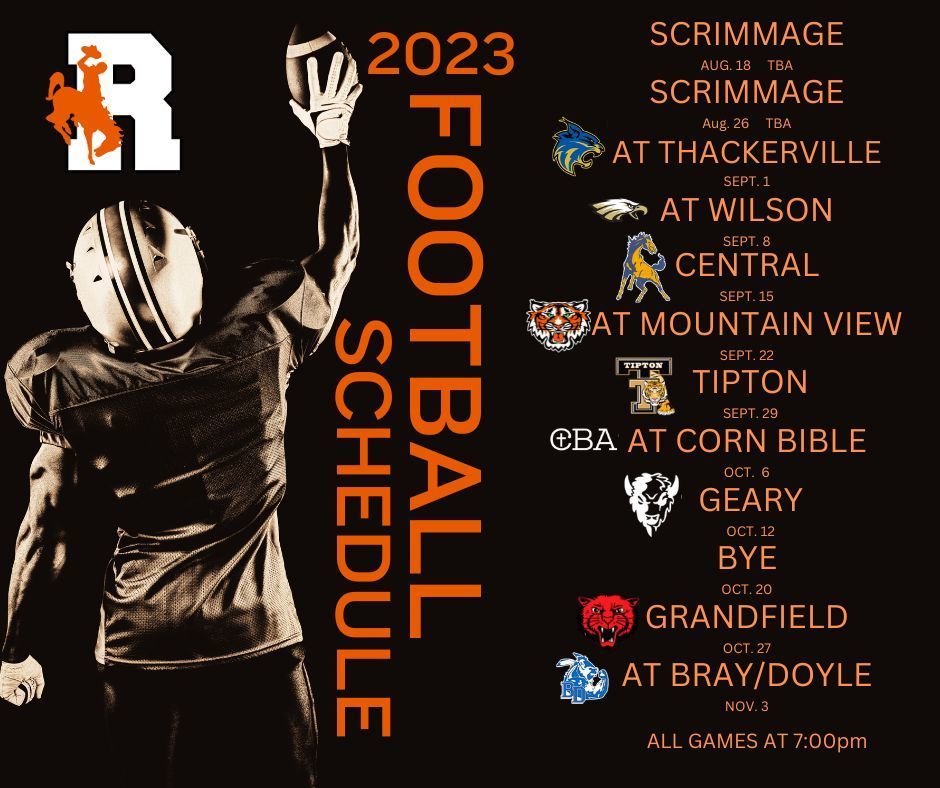 The Ryan BETA Club will be hosting a Dodgeball Tournament on May 9th. This tournament is open to all 5th - 12th grade students who attend Ryan Public Schools. More Details in the attached image. Please email Mr. / Mrs. Miranda or Mrs. Griffin if you have any other questions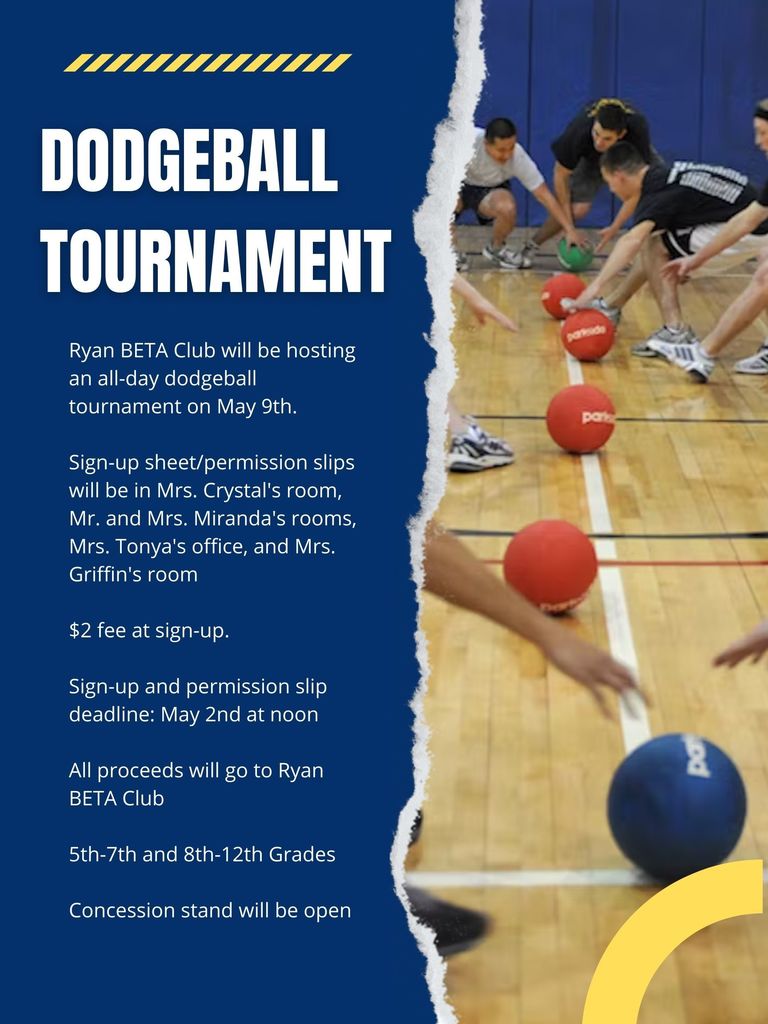 Hey all! Don't forget that the Ryan Athletic Department is sponsoring a Blood Drive with the OBI tomorrow. The Drive will take place in the GYM LOBBY, so please make sure if you're coming to the school to enter through our new entrance on the southeast side of the campus. We look forward to seeing you all help with this great cause!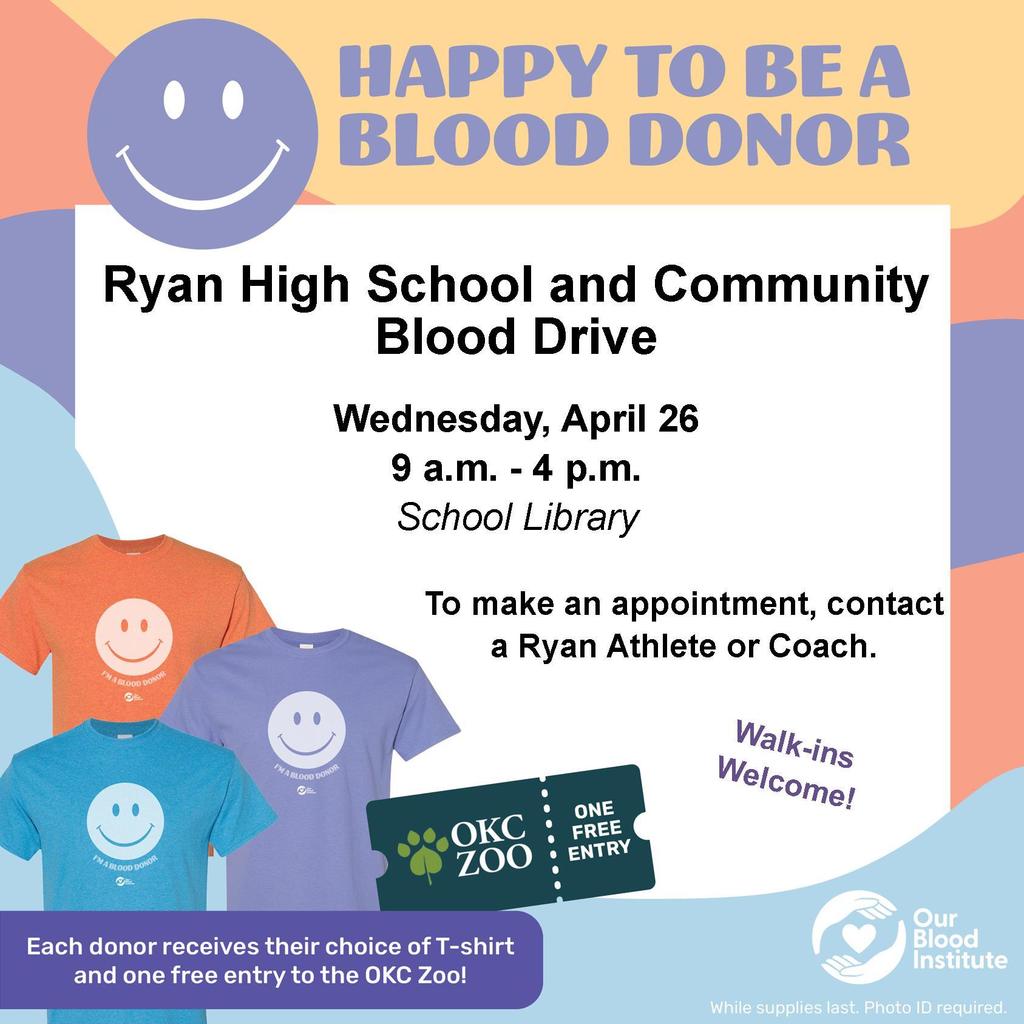 Today and Tomorrow is the big day! Ryan FFA plant sale! The sale will be cash or check only. We ask that you enter through the east shop door as the classroom area will be locked during the sale. Please be considerate of all buses and children exiting the south parking lot around the conclusion of school hours. Proceeds will help with state convention and sustaining/furthering our greenhouse program. We also have 2 exciting promos for everyone! 1) For each $10 spent (including those who have already purchased veggies) , your name will be entered for a chance to win $30 worth of meat sales product! 2) If you share this post you will be entered to win a free small premade patio arrangement! We look forward to seeing everyone tomorrow and as always thank you for supporting our students!
Good Afternoon Ryan! Don't forget that the RHS Athletic Department is sponsoring a Blood Drive on Wednesday, April 26th, along with the Oklahoma Blood Institute. If you're able to come out and support the cause we would greatly appreciate it! Everyone who participates will receive a shirt (featured in the image) as well as 1 Free Admission to the OKC Zoo! If you are interested please contact the HS office or any of the coaches. Below is a link to an informational video provided by the OBI. Thank you!
https://fb.watch/js6Gu0HCcS/