News
https://www.kswo.com/2020/03/09/ryan-high-school-students-return-convention-state-champions/This is the link to the news article about some of our students!
I am very happy to announce a partnership between Ryan Public Schools and the Town of Ryan! We have been working on a way to improve the way we communicate with parents...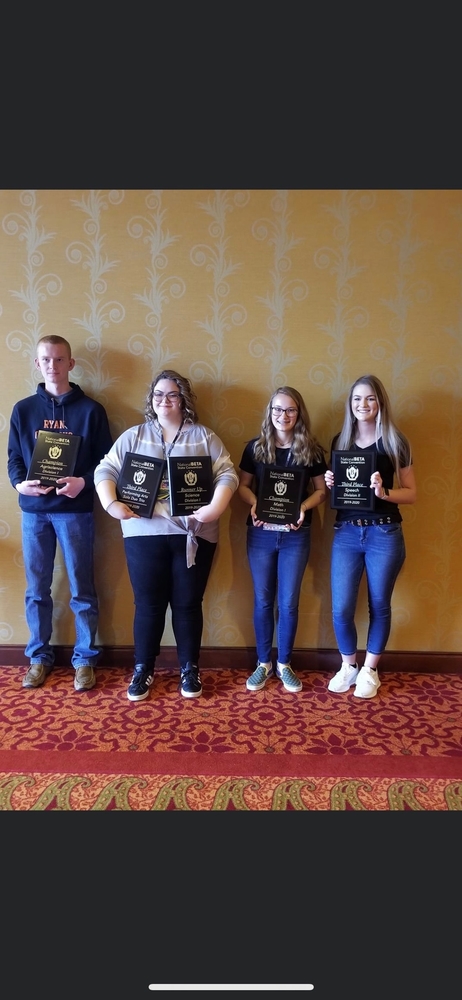 Ryan students bringing home some hardware!Mason Adsit Champion Agri-Science, Rylee Townsend 3rd talent and 2nd Science, Libby Carter Champion Math, Tawny Vanover 3rd Speech
SEE ALL NEWS
LIVE FEED
Tony Tomberlin
2 days ago
Attention Cowboy/Cowgirl athletes. On Friday, May 29th all coaches will be meeting with their players at the football field in the bleachers. Coach Spangler is going to meet with 7th-12th girls basketball and cross country athletes at 2:00. Coach Mueggenborg is going to meet with 7th-12th softball players at 2:30. Coach Barnes, Coach Roberts and Coach Tomberlin will meet with all 7th-12th boy athletes at 5:30. Plans are to discuss what the summer MAY look like after June 1st including start/stop dates of each sport, basketball scrimmages, weightlifting times, etc. and to answer any questions or concerns parents may have. Hope to see everyone there. GO COWBOYS!

Ryan Public Schools
4 days ago
Meal pickup will be on Tuesday this week due to Monday being Memorial Day. Same times as usual on Tuesday!

Ryan Public Schools
6 days ago
If anyone needs shelter the high school is open. Please remember no pets are allowed in the tornado shelter.

Ryan Public Schools
8 days ago
Don't forget today is meal pickup day! We have been approved to serve meals for the rest of the summer! I hope this has been helpful to those who have been getting the meals. We really appreciate the girls who have been preparing the meals!
Tony Tomberlin
14 days ago
We will start clearing lockers on Monday, May 18th. Please make note of the following schedule.
7th-8th Grades Monday 11 am-12 pm
9th-10th Grades Tuesday 11 am-12 pm
11th-12th Grades Wednesday 11 am-12 pm
We ask that you enter the building through the north doors and you will exit through the south doors. We will only allow 4-5 students in the building at one time. Thank you.
SEE ALL POSTS